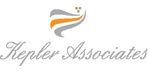 "Beyond Numbers and Figures" is their motto. Kepler Associates, an affiliate with Kepler Consultants, is an auditing and consulting firm which was established in 2011 providing a wide range of high quality business services to clients in a variety of industries. Kepler Associates specializes in business advice and consultation, auditing and assurance services, project management, risk management, training and IT solutions.
They are proud to be one of the professional firms in Tanzania, and we know that our growth and success are directly linked to our commitment to excellence and professional services they provide to their clients.
Kepler Associates is composed of multi skilled teams with skills ranging from auditing and accounting, project management, IT and other diverse skills. The partners and senior staff members are qualified professionals or members of professional bodies, recognized worldwide with international qualifications and local expertise.
The staff currently comprises of Certified Public Accountants, and a group of senior consultants, senior auditors, project managers, risk managers in addition, the firm cooperate with a group of specialized consultants to perform the consulting engagements on a job basis.
Kepler Associates is legally registered and affiliated to the following organizations:
The National Board of Accountants and Auditors Tanzania – practicing license;
The Association of Certified Chartered Accountants, UK and Scotland.