pdf [Press Release] CSI tools CIOReview 20 Most Promising SAP Solution Providers 2019 (335 KB)  
"The enterprise world of the past few years has undergone expansive changes in the way they operate and control their business workflows. One challenge that these firms face is understanding the multiple platforms and computational tech that is in utilization at their facilities. Most companies are now turning to software solution providers in the ERP space to drive better functioning of the varied solution they have for asset management, risk management, supply chain, customer relationship management, and talent acquisition. One of the market leaders and an organization that is leading the way to bring prime ERP software at companies to mitigate their issues is SAP. Most ERP vendors are now building their products on top or around SAP's technology, and this has left decision makers at firms to choose from a phetore of programs that they can implement.
The solutions not only enhance the performance and efficiency of the workforces at organizations, but they also make the job of most of the professionals across varied teams of the businesses easier to operate and handle. Firms that are leveraging these computational technologies are moving toward success at much quicker rates than their competitors, and are seeing better cost savings and profitability through improved ROI.
To enlighten the top management at firms on how to alleviate their business operations and automate their workflows with a deft SAP solution, a distinguished panel comprising of CEOs, CIOs, CTOs, and the editorial team of CIOReview has assessed hundreds of SAP solutions Providers and chosen the most promising companies operating in this realm. These firms exhibit extensive know-how in delivering a varied range of SAP solutions." - CIOReview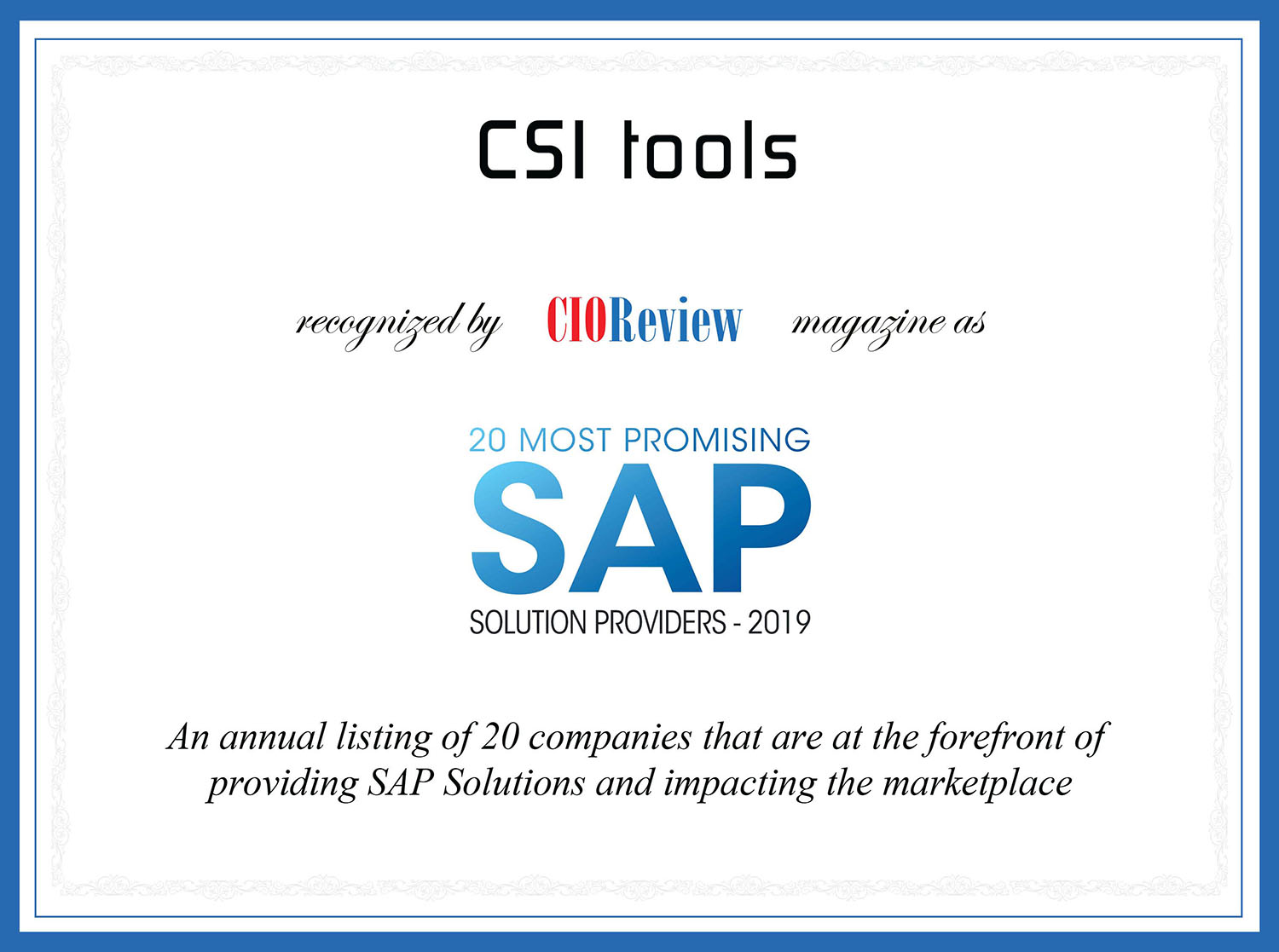 About CIOReview
When it comes to identifying "The Best" in different areas of tech business, CIOReview seems to create a niche of its own. Through consultations and nominations with the industry leaders and thought experts, CIOReview constantly ventures and makes efforts to choose the most promising one in different domains of the tech business. SAP Solution Special Edition is an annual listing of 20 Most Promising SAP Solution Providers. For more information, visit CIOReview's website.

About CSI tools
CSI tools has been on the market with their solutions for SAP access governance since 1997 and provides analytic control solutions that audit and monitor SAP environments, manage and validate authorizations, and build roles tuned to the organizations security requirements and business needs. It develops dynamic analytics tools that deliver intelligence from and to decisions taken in identity and access governance for SAP environments.