pdf [Press Release] CSI tools CIOReview 20 Most Promising SAP Solution Providers 2018 (209 KB)
"In the current era, enterprises face a multitude of challenges in establishing a sustainable business model. Apart from the challenges of finding a market for their products and business ideas, implementing robust IT systems and infrastructure is crucial for businesses to thrive. Rising expenses and limited availability of resources have made enterprise-grade software solutions an important gear in the corporate machinery. SAP, a leader in business management solutions, provides a comprehensive range of products that encompass a wide variety of functionalities including asset management, financial management, customer relationship management, logistics, and human capital management.
SAP's solutions act as a means of consolidating an enterprise's IT resources and streamlining their business processes. Over the years, SAP has allowed businesses to manage their operations efficiently and achieve their objectives with lesser overhead costs. It has also enabled firms to obtain a holistic view of every aspect of their business right from recruitment to production to sales. The SAP solutions today serve as key elements for enterprises seeking to head for a digital transformation.
Numerous technoloy vendors now exist in the market to help such companies implement a wide range of SAP solutions including standard ERP solutions as well as complex Internet of Things (IoT) devices. While these solutions providers can help automate workflows and improve business operations, CIOs find it tedious to choose the right partner.
To alleviate the burden, a distinguished panel consisting of CEOs, CIOs, CTOs, and the editorial team of CIOReview has evaluated hundreds of SAP solution providers and selected the most promising companies operating in this space. These firms exhibit extensive know-how in delivering a varied range of SAP solutions." - CIOReview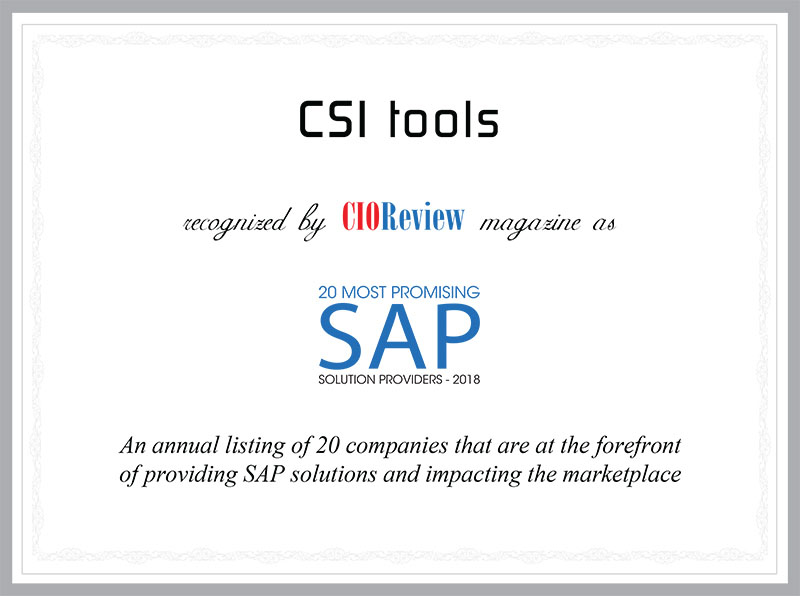 About CIOReview
When it comes to identifying "The Best" in different areas of tech business, CIOReview seems to create a niche of its own. Through consultations and nominations with the industry leaders and thought experts, CIOReview constantly ventures and makes efforts to choose the most promising one in different domains of the tech business. SAP Solution Special Edition is an annual listing of 20 Most Promising SAP Solution Providers. For more information, visit CIOReview's website.

About CSI tools
CSI tools has been on the market with their solutions for SAP access governance since 1997 and provides analytic control solutions that audit and monitor SAP environments, manage and validate authorizations, and build roles tuned to the organizations security requirements and business needs. It develops dynamic analytics tools that deliver intelligence from and to decisions taken in identity and access governance for SAP environments.