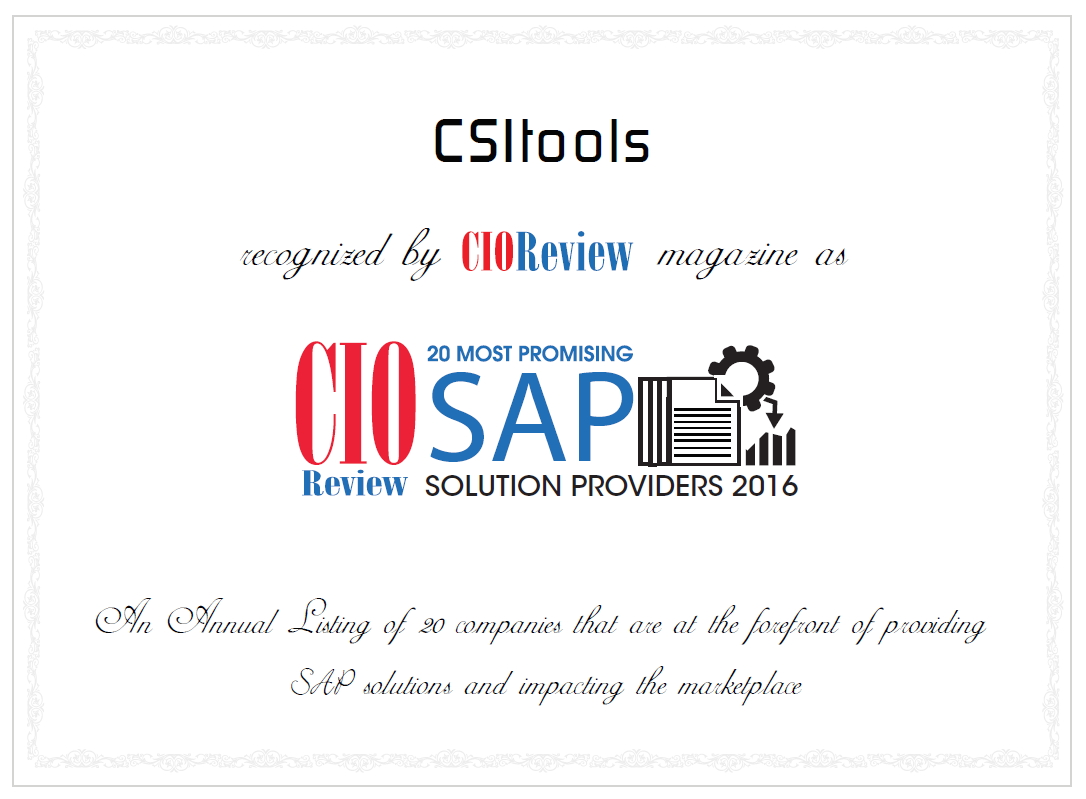 pdf [Press Release] CSI tools - CIOReview 20 Most Promising SAP Solution Providers 2016 (262 KB)
FREMONT, CA—February 29, 2016 - CSI tools is honored to announce that it has been selected among 20 most promising SAP solution providers list of 2016 by CIOReview.
The annual list showcases the 20 most promising SAP solution providers 2016. The positioning is based on evaluation of CSI tools' specialties in helping clients to achieve efficient and better business solutions. The shortlisted companies were then taken up by a distinguished panel comprising of CEOs, CIOs, VCs analysts including CIOReview editorial board.
"CSI tools simplifies the complexity of SAP security with a unique approach, and we are glad that this approach is being recognized this year by CIOReview's panel of experts and thought leaders and market", said Jeevan George, Managing Editor, CIOReview.
About CIOReview
When it comes to identifying "The Best" in different areas of tech business, CIOReview seems to create a niche of its own. Through consultations and nominations with the industry leaders and thought experts, CIOReview constantly ventures and makes efforts to choose the most promising one in different domains of the tech business. SAP Solution Special Edition is an annual listing of 20 Most Promising SAP Solution Providers 2016 in the U.S. For more information, visit the website at: http://www.cioreview.com/
About CSI tools
CSI tools has been on the market with their solutions for SAP access governance since 1997 and provides analytic control solutions that audit and monitor SAP environments, manage and validate authorizations, and build roles tuned to the organizations security requirements and business needs. It develops dynamic analytics tools that deliver intelligence from and to decisions taken in identity and access governance for SAP environments. For more information, visit http://www.csitools.com/