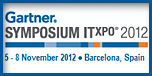 CSI tools is supporting the Gartner Symposium ITxpo 2012, on November 5th to 8th in Barcelona, Spain. Our 2012 agenda will offer the insight and information CIO's and senior IT executives need to drive their organizations' IT success.
The Gartner Symposium ITxpo 2012 is the only IT and business event designed to elevate and expand your CIO role on the executive team as a key contributor to organizational transformation and growth.
We hope you'll join us at this important event.
Detailed information can be found on the Gartner website.
Anticipating to the Gartner Event, you might be interested to download and read the PDF about CSI Accelerator's reporting features.  This is not the presentation that Johan Hermans will be giving at the Gartner event.  This powerpoint gives you some insights on how CSI Accelerator organizes and performs role audits to detect and decide upon vulnerabilities, which will not be revealed by SoD conflict audits alone. It also shows that each grid output by CSI Accelerator can be one-click exported to other reporting tools (Excel, Access, XML...)