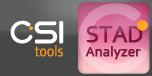 CSI STAD Analyzer is not available anymore. This functionality is now available in CSI Authorization Auditor 2019.
Functionality
With this Microsoft Access based application you will be able to analyze the transaction codes a user executed.This application will be able to download by RFC and read & process STAD information generated by the CSI ABAP (ZSTADLOG_Vx) as well as the older versions to cover older systems. The results of the processing of the results of the ABAP will give you an idea about the moment and the frequency a certain user executed a transaction code.
You will be able to view these results of the analysis on screen or in a report.
Features
Process STAD-files as result of the CSI ABAP (ZSTADLOG_Vx / ZSTATLOG_Vx)
Download STAD information directly through RFC
Merge STAD data together in one container
Results will appear:
You will get the answer on the questions:

When did user x execute transaction code y?
How often executed user x transaction code y?

Interoperability with CSI Authorization Auditor