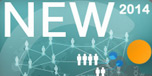 CSI tools is more active than ever before. Known as an independent software development company, they have developed software for Access Governance solutions for  SAP environments. CSI tools is making a huge jump towards the new year with:
- New Management
- New Products for 2014
If you have missed some of these amazing developments, than please let us inform you.
New Management
CSI tools is a very experienced SAP software specialist. Originated as a department of a massive SAP security consultancy practice, nowadays moved on fully independent since 2012. They got a new Chief Operating Officer and put more developers and SAP specialists to work. The results are astonishing.
Keep me informed
Yes, I want to stay one step ahead with the latest heads-up about the upcoming CSI tools 2016 applications.
Invite me to an online demonstration meeting.
New Products for 2014
CSI tools has developed three amazing new tools to help the SAP community. With their 3 new CSI applications, they make sure the competition is nowhere near their solutions. Independent research firms like Gartner and Bloor Research can elaborate on this.
The three new applications are: CSI Authorization Auditor 2014, CSI Role Build & Manage 2014 and CSI Integrate & Collaborate 2014. There is so much more to discover!

Visit the website to find out more about CSI tools, the new apps and the companies that they already helped securing their SAP systems.