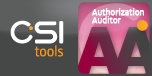 CSI Authorization Auditor v9.0.0.8 has been released.  This is a service release fixing some minor issues with reporting.
CSI AA v9.x users do not need a new Security Manifest file.
For CSI AA v8.x users or earlier: a new Security Manifest is required.  
Please contact support@csi-tools.com to get yours.

Changes in CSI Authorization Auditor v. 9.0.0.8
This is a service release
Fixes
Fix: Report "SoD Results: full detail with norm and T-Codes" did not resond.  This has been fixed.
Fix: in MS Access v.2010, report output now occurs in PDF format, since Microsoft does not support the .snp report format in this version.


Changes in CSI Authorization Auditor v. 9.0.0.7
The service release of July 2012

Enhancements
attaching STAD data directly via data extraction is now possible
Fixes
Data Extraction settings can now be saved.
Data Extraction via SE16 is now enabled.
STAD Analyzer freeze when no Result Container is attached has been solved.
Enabeling "Disregard T-codes" option has been corrected.
Correction of user details in User Menu.
Changes in CSI Authorization Auditor v. 9.0.0.2
CSI Authorization Auditor v9.x (CSI AA) has been released on April 12, 2012.
The SAP SOx compliancy audit and control tool comes with performance enhancements and now has the SAP data import functionality embedded in its core functionality, including automatic conversion of downloaded object data and attachment of the databases to the application. 
CSI AA 9 now also exports directly to MS Excel 2007 and 2010.
On the reporting side, new reports related to locked transaction codes and listing corrupt roles have been added.   
Recalculation on totals for multi-dimensional SoD conflicts has been corrected.